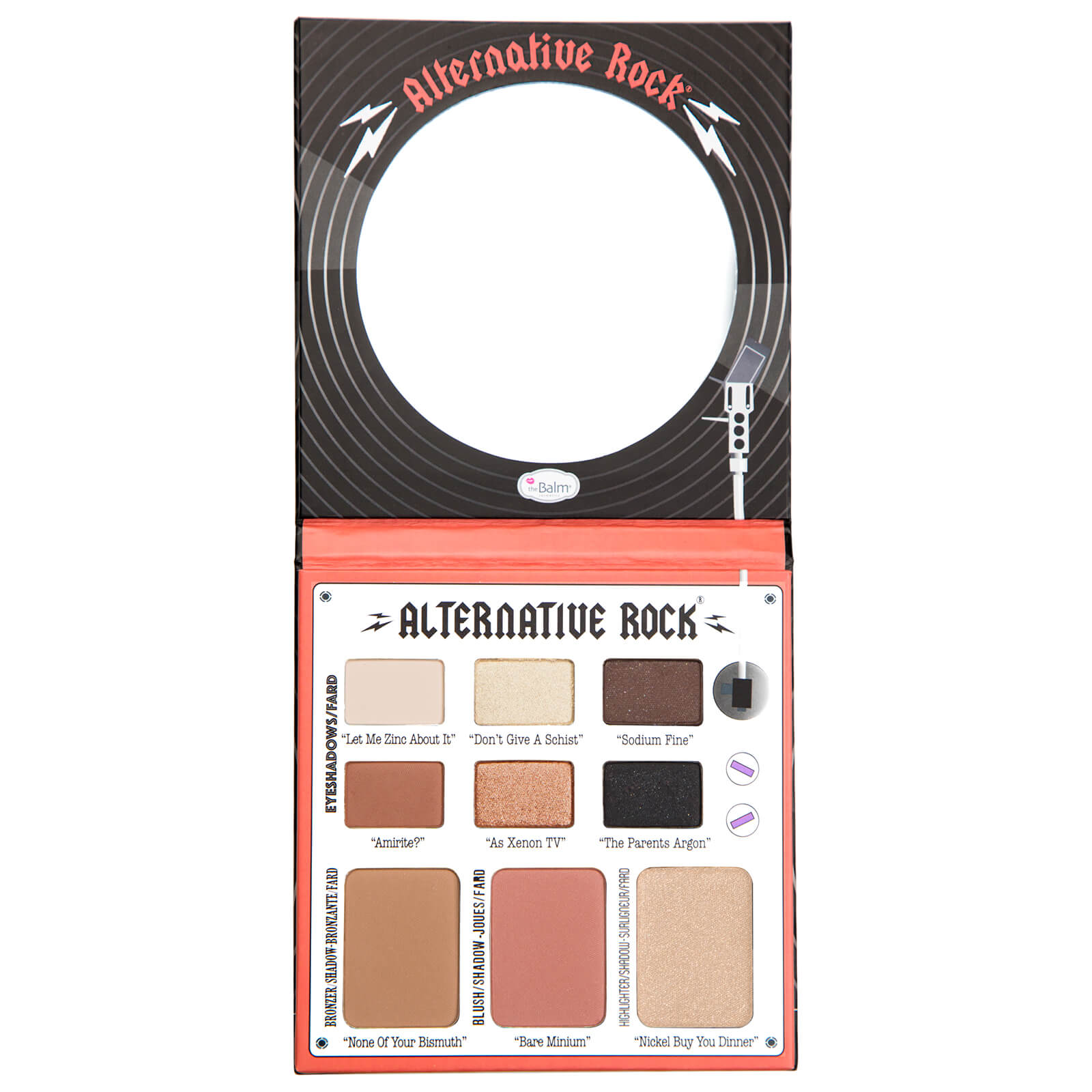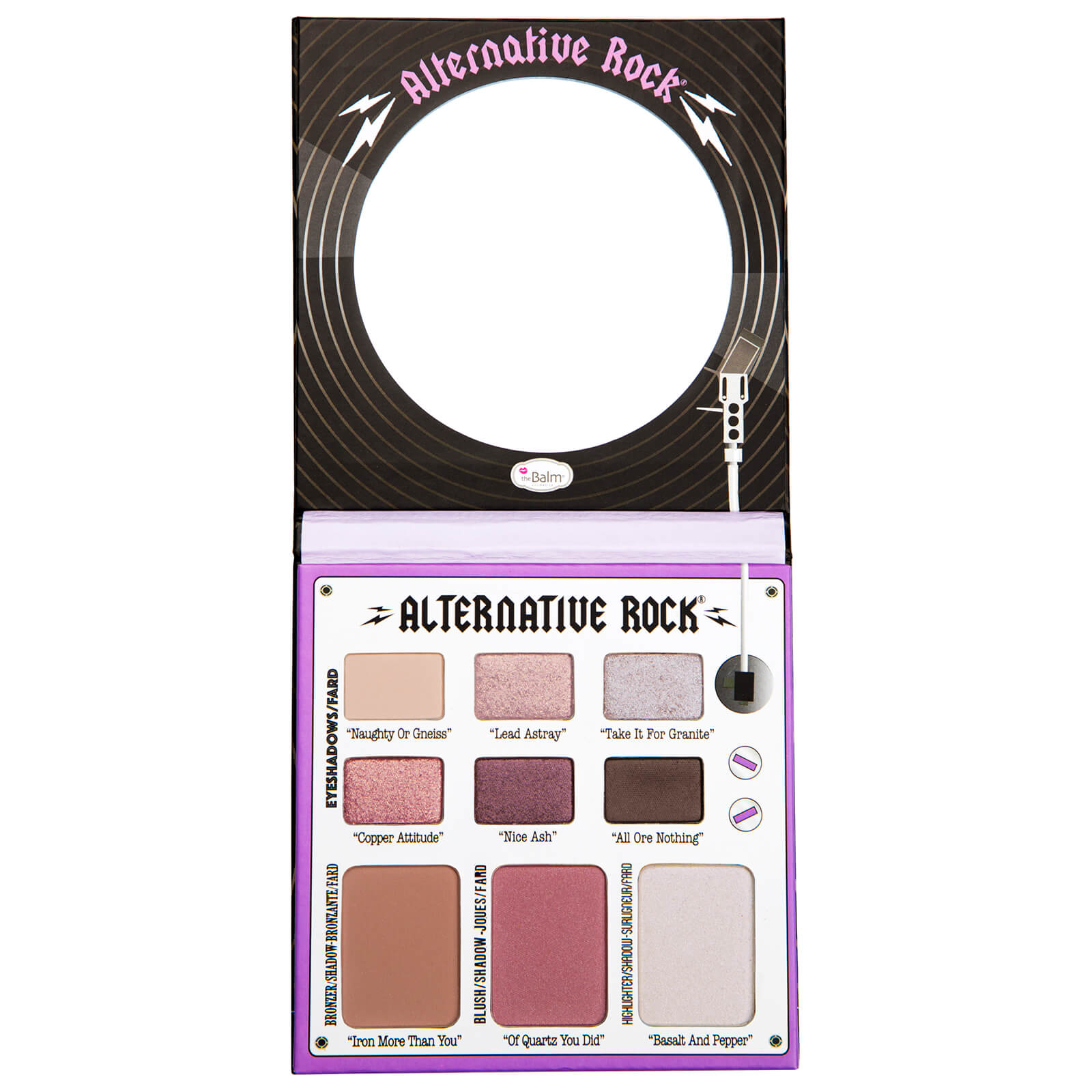 theBalm have just launched two fab new editions to their palette collection; the Alternative Rock Palettes – Volumes 1 & 2, a multi-tasking face palette that combines six triple-milled eyeshadows with blush, bronzer and highlighter powders in complementary colours.
The palettes contain 6 x eyeshadows to create a range of looks that add subtle depth or bold definition to the eyes. The triple-milled, highly pigmented shadows can be used both day and night, and are effortlessly blendable.  The bronzers are a dual-purpose powder which can be used as a bronzer or shadow. It's long-wearing formula is perfect for creating a subtle glow, or for contouring the cheekbones, forehead and jawline for a more sculpted, defined look. The blushers are a silky, lightweight powder that blend seamlessly and add a pop of natural-looking colour to your cheeks.  Last but not least is the highlighter that delivers a natural-looking, light-diffusing colour with remarkable pay-off.
Instantly brighten your complexion with the new NIP+FAB Unicorn Essence which has been formulated to make skin look glowy, dewy, refreshed and revitalised.  The serum primer can be used as skincare product to leave skin feeling hydrated and renewed or as a primer to create the perfect illuminating base for long lasting makeup. With its soft pink hue, the formula will also work as a soft colour correcting effect, making the complexion look healthy. For the ultimate glow apply to the top of your cheek bones, laying your lighter on top.  It's looking very much like another fab dupe for  FARSÁLI Unicorn Essence £50, however, it's currently on special offer for only £13 at Superdrug…normal price will be £15.
Get that 'lit from within' golden glow with Nip+Fabs new primer Rose Gold Essence which has been formulated with gold flecks to make skin look radiant, dewy, refreshed and revitalised.  It also acts like a makeup primer, ensuring an even and hydrated base for makeup and when the rose gold flecks disperse, a soft revitalising effect can be seen on the skin. Like the Unicorn Essence you can also apply to the top of your cheek bones and layer  your highlighter on top for the ultimate glow.  This is also looking like the perfect dupe for  FARSÁLI Rose Gold Elixir £50 but again coming in at a very competitive price of just £15…currently on special offer at Superdrug for just £13.
If you can't commit to a long term relationship with hair colour why not live in the moment with I Heart Revolution's new Rainbow Shots.  This vegan, cruelty free, temporary hair colour is available in 6 colourful shades and will only last 1-3 washes, and value for money as you can get 3-4 uses out of each bottle.  With the colour, shampoo and conditioner in one you can be rest assured no damage will come to you hair as these are ammonia and peroxide free products.  Rainbow Shots are ideal for lightened or naturally blonde hair and also work on human hair extensions or wigs too. There is minimal or no impact on darker shades.
If you feel confident enough to take the next step in your relationship with hair colour why not crank it up a notch  to a Semi-permanent.  I Heart Revolution's Rainbow Tones is a semi-permanent hair colour that lasts for 8-12 washes, is infused with with extra body conditioner, pumpkin seed oil and argan oil.  These semi permanent colours are available in 9 pastel and vibrant shades and are vegan, cruelty-free, ammonia-free, and peroxide-free.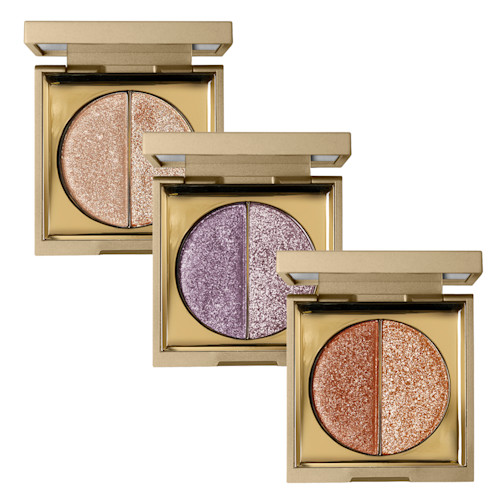 In the fall of 2018 Stila launched their Vivid & Vibrant Eyeshadow Duos, and for the holiday season they bring us another glamorous twosome of eye shadows featuring maxed out pigment and molten metallic sheen.  Bare with Flair is available in 3 gorgeous colours including the Stila cult classic Kitten.  The mixture of glitter and metallic pearls create dazzling, shade-shifting effects and dimension, while the richly pigmented and crease-proof formula makes it effortlessly easy to apply.  These duo's are perfect for creating a neutral eye look with a burst of sparkle and metallic sheen. Available to buy now at Cult Beauty.
Claire D'Urso, GlamGeek's Beauty Editor
Comments
comments